Leafages come in many themes and for many celebrations–marriages and weddings, births, new beginnings, welcome to a new house, and just for the sake of celebration itself!  Because I live in wine country and love wine and the leaves and tendrils of the grape vines, I have made many leafages that celebrate wine through the words of the philosophers and religions that feel the way I do!
Here are some of the many leafages that celebrate friendship and love.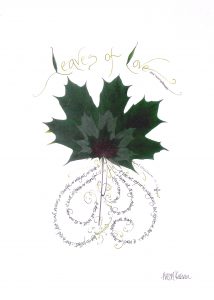 And sometimes I've designed a leafage to carry words I am particularly fond of–from the Rubaiiyat of Omar Khayyam or the poems of Emily Dickinson or one of the Psalms.  And sometimes, the words are mine, written to celebrate Mother's Day or abundance or fertility.
You can see some of these leafages here but if you can't find a leafage that fits any of these descriptions or if you'd like one of your own, please contact me.  I'm always happy to chat about these things!  And I'll be posting more as often as I can.